September 2022 Market Brief: The Labor Market & Economy Is an Equation that Doesn't Add Up
Actalent's Economy & Labor Market Brief: September 2022
Welcome to Actalent's Economy and Labor Market September 2022 Report where we share insights into some of the most important conversations happening in the economy and labor market and help connect the dots about why it matters.
Listen to the Brief:
"If you lay off people with valuable skills, well, you're not going to be able to recover production when demand picks up again," John G. Fernald, senior research advisor, Federal Bank of San Francisco
When the US Bureau of Labor Statistics (BLS) released the jobs report last week, major news outlets had different takes on whether the report was good news, bad news, or indifferent news for the economy. For example:
One headline indicated the economy was cooling.
Another headline indicated the economy remained strong.
A third headline reported that the economy was strong, but cooling.
As we wrote in a recent whitepaper, the human brain loves categories. In fact, our ability to quickly consume and classify information into neat and tidy boxes is critical to our survival. However, doing so doesn't account for the nuance that exists within the information—subtle differences with significant impact.
And right now, the labor market and economy are full of nuance.
The View from 50,000 Feet
Labor Market:
For every push, there's an important pull to consider.
263,000 jobs were added to the economy in September, which was slightly higher than what economists predicted; and while job openings decreased by 1.1 million in August, they were still 43 percent higher than pre-pandemic levels.
Unemployment decreased to 3.5 percent in September, down from 3.7 percent in August; however, the labor force participation rate also declined (by 0.1 percent) as more workers (including those considered prime age) stopped working or stopped looking for work, contributing to the low supply/high demand ratio.
4.2 million workers quit their jobs in August, signaling no change in overall quits; however, quits in professional and business services declined.
Finally, layoffs/discharges remained very low in August, and the number of workers expecting to lose pay within the next four weeks fell to a record low in September. Another sign that for now, we may be experiencing a different kind of recession.
Inflation:
We are approaching the two-year mark of surging inflation. September's rate came in hotter than expected at 8.2 percent. Experts predict people will pay 34 percent more for home heating this winter compared to what they paid last year. Between the surging cost of groceries and energy, no one is spared. The Social Security Administration just announced a massive 8.7 percent increase in retiree benefits, the highest since 1981.
Later this month, the Federal Reserve is expected to announce another interest rate hike—a continuation of its aggressive strategy to slow down the economy, and thereby inflation, without putting it into a recession. Though some economists believe we're either already there or headed directly for it.
Don't forget about that nuance, though, because the current labor market says otherwise.
Between the higher costs of things and the fierce competition between employers to find and keep talent in a persistently high demand/low supply labor market, employers continue to offer significant wage increases. Speaking of which…
Wages:
In September, average hourly earnings increased 5.0 percent year over year. A rate that was nearly unheard of prior to the pandemic, when increases ranged from 2.0 percent to 3.6 percent. However, with inflation coming in at 8.2 percent, that 5.0 percent increase feels more like a 3.0 percent loss. In other words, real earnings continue to fall, prices continue to surge, and workers continue to demand higher wages.
If demand for workers remains high and supply remains low, this "recession" might be the first of its kind.
A Closer Look at Engineering and Sciences
In engineering and sciences, unemployment remains well below the national average and demand continues to outpace availability for these workers.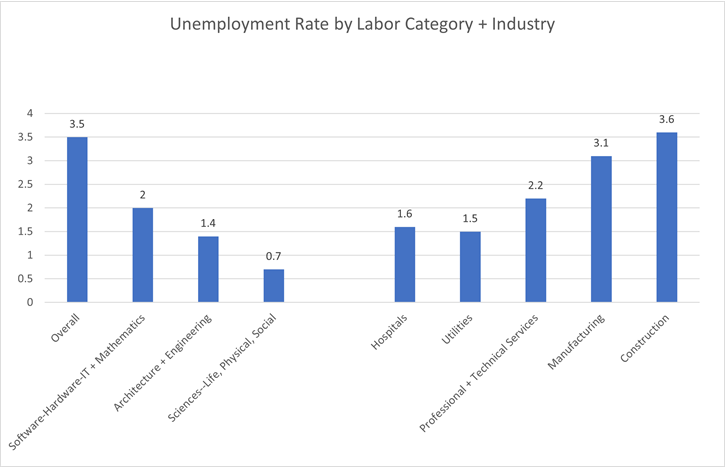 The worker shortage in engineering and sciences persists: Between July and September, there were less than .13 unemployed workers per job opening in engineering and sciences labor categories.
Almost every engineering and sciences industry added jobs in September:

Healthcare added 60,000 jobs in September, returning to February 2020 levels.
Consumer + Industrial Products added 22,000 jobs with expected growth on the horizon as Apple's US sites prepare for reshoring and Micron announces plans for a $100B chip factory in upstate NY.
Construction openings reached an all time high at the end of August, but employment in this category reached a near-record low in September. Labor shortages are creating real problems, with many projects delayed or canceled. And that's not including impacts from Hurricane Ian, which won't be known until next month.

Massive investments by Utilities to harden the grid and improve resiliency paid off. Florida Power & Light credited upgrades to transmission and distribution systems for the prevention of blackouts as Hurricane Ian tore across much of the state.
Companies are relying more on workforce solution partners in professional and business services to get important work done even as they pump the brakes on hiring plans. Temporary employment continued to trend upward, with 27,000 jobs added to this category in September—an all-time high for temporary employment.
For more in-depth data on hiring trends in Engineering and Sciences, download the full data report.
Connecting the Dots
As always, there are a few things we're keeping our eye on that we thought you'd be interested to know, too.
From Problem to Solution in STEM. Several organizations have plans underway to help address the forecasted STEM shortage:

Honda and the Center of Science and Industry (COSI) just announced a nationwide initiative "The Honda Engineering Roadshow" that will distribute 20,000 Learning Lunchboxes to students in Kindergarten through eighth grade. Each lunchbox contains STEAM (science, technology, engineering, art, and mathematics) content and learning activities that showcase career opportunities at Honda, from aerospace to electrical engineering. Distribution will occur in partnership with local food banks. Honda donated all proceeds from the $1.1 million auction of the very first serial production 2022 Acura NSX Type S supercar to charitable organizations, including COSI, to support STEAM youth education across the U.S.
The Museum of Science is collaborating with dictionary.com to bring scientific words to life and inspire a love of words and science in everyone. This weekly video series, "Science Word of the Week," will describe scientific terms, their meanings, and how they are used.
Two South Carolina institutions are pairing up to create an affordable and clear pathway for students to earn a Bachelor of Science in Systems Engineering. The 2+2 program between The College of Charleston and Trident Technical College is designed to help meet the demand for more engineers in an affordable, time-efficient manner.

Manufacturing companies opened their doors to students during the annual MFG Day on October 7th. This growing event showcases employment opportunities for hands-on workers with the hopes of strengthening the talent pipeline in this industry.

From Gig Worker to Employee? The Labor Department is pursuing a rule change that will likely require more workers — in particular, gig workers— to be classified as employees rather than independent contractors. Proponents of the change argue it will ensure lawful wages for these workers; opponents argue it will upend business models and infringe on the flexibility these workers' desire.
Pause that Deal. The Wall Street Journal recently reported on a 34 percent drop in value among mergers and acquisitions for the first nine months of 2022. This comes on the heels of a record deal-making year in 2021. The Feds rising interest rates have been cited as the cause for the pause.
Past Issues:
References:
Actalent's September 2022 Economy and Labor Market Report synthesizes information from a variety of sources including the United States Bureau of Labor Statistics survey results, Lightcast (formerly Emsi-Burning Glass), media reports, industry intelligence, company earnings reports, and external labor market data. The full set of data is included as a companion to this article.
If you'd like more information on the data presented, or have questions about the information provided in this report, please contact our team at: content@actalentservices.com